A few words, before you start
Starting a business can be an exciting but challenging journey. One of the most critical decisions you'll make as a business owner is choosing the right legal structure for your company. A limited liability company (LLC) is a popular choice for many entrepreneurs because it offers personal liability protection and is relatively easy to set up.
In the context of an LLC, limited liability means that the business owners (also known as members) are usually not personally responsible for the company's debts or legal obligations. 
In this A-Z guide, we'll walk you through the step-by-step process of creating an LLC with Tailor Brands. Whether you're a first-time business owner or an experienced one, this guide will provide you with everything you need to know to form an LLC through our platform. From choosing a name to filing paperwork, we'll cover all the essential aspects of creating an LLC, so you can focus on growing your business with peace of mind. Let's get started!
Choose a Name and Alternative Name for Your LLC
The first step in filing for an LLC is to choose a name for your business. Your LLC's name is how your business will be identified and recognized by customers and the government. It's essential to choose a name that represents your brand and is unique, as it will help you stand out in the market.
To begin, you'll need to check if your preferred business name is available. You can do this by searching the online database of your state's Secretary of State's office, where you intend to register your LLC.
If your preferred name is not available, we'll automatically proceed with your alternative name choice so the process of filing your LLC isn't delayed.
Note that the availability of your name will also depend on the industry of your business.
Choose a Registered Agent for Your LLC
The next step in filing for an LLC is to choose a registered agent for your business. A registered agent is a designated individual or business entity that must be available during business hours to handle formal documents for your business, such as legal notices and tax forms.
Choosing a registered agent is a crucial step because this individual or entity will be responsible for receiving and forwarding essential documents and notifications to you. It's important to choose someone reliable who can handle these responsibilities promptly and effectively.
At Tailor Brands, we offer registered agent services to help ensure that your business stays compliant with state requirements. Our registered agent services provide a reliable and secure way to handle your formal business documents, giving you peace of mind that your LLC is in good hands.
However, if you prefer to choose your own registered agent, you can do so. It's important to note that the registered agent must have a physical street address (not a PO Box) in the state where you're forming your LLC. The registered agent's address will be part of the public record, so many business owners choose to use a registered agent service to maintain their privacy.
Determine if You Need an EIN
The third step in forming an LLC is to determine if you need an Employer Identification Number (EIN). An EIN is a federal business tax ID that works like a Social Security number for your business. Many of your business's financial matters, such as opening a bank account, paying taxes, and hiring employees, will depend on this number.
If you're planning to hire employees or are taxed as a corporation, partnership, or LLC with multiple members, you'll need an EIN.
It's important to note that we can only obtain an EIN online if you have a Social Security number (this includes non-US citizens). Otherwise, you'll receive IRS Form SS-4 and instructions on how to file it.
At Tailor Brands, we can help you obtain an EIN for your business. Our EIN services provide a quick and easy way to get your EIN, so you can focus on other aspects of your business.
Add Information on Owners of the LLC
You'll need to add the information of the owners of the LLC. Owners will manage the LLC, and their information might need to be provided to the state. Be sure to include the full name and address of each owner, as well as their percentage of ownership in the LLC.
List all owners' information, including yourself, even if you already provided this information. Owners can be individuals and business entities.
Add Information for LLC's Business Address
This is the physical location of the business where official correspondence and legal documents can be sent. It's important to note that a P.O. box cannot be used as the business address as it is not a physical location.
Be sure to provide a complete and accurate address for your LLC's physical location, including the street name, building number, and suite or unit number if applicable. This information might be included in the public record, so it's important to ensure that it is up-to-date and correct.
Note that a home address can also be used as a business address.
In the states of Delaware and Wyoming you can add an international address.
State the purpose of your Business
The purpose of your business should be a general statement that describes the overall activities of your LLC. This purpose does not need to be specific or detailed, but it should accurately reflect the type of business you plan to operate.
Misunderstandings to Avoid: Providing a vague or unclear purpose for your business can result in misunderstandings or confusion about the type of business you plan to operate. Make sure to provide a clear and concise purpose that accurately reflects the type of business you plan to execute.
Consider Annual Compliance
Once your LLC is formed, it's important to stay updated and in good standing with the state requirements. This includes filing annual reports and maintaining the proper records and documentation, where needed. One way to advance compliance is to enroll in an Annual Compliance subscription. By enrolling in our Annual Compliance program, you will receive notifications of relevant changes to state compliance requirements and have the option to have a team take care of your LLC report where mandatory.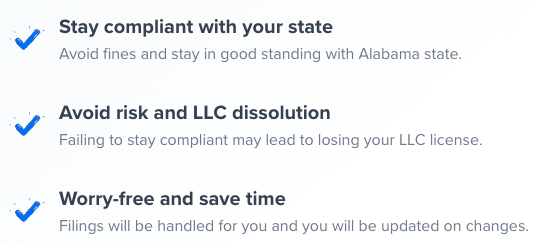 This can save you time and avoid the hassle or risks of non-compliance. Be sure to consider the benefits of Annual Compliance to keep your LLC in good standing and avoid any legal or financial issues down the line.
Add an Operating Agreement
While an operating agreement is not a requirement for LLCs in all states, it's highly recommended to have one in place. An operating agreement outlines the daily operations of an LLC, as well as the course of action if a conflict arises or a member needs to leave the business (by choice or for other reasons). The agreement can also include member details, such as their duties and contributions in the agreement.
Once the operating agreement is complete, it should be added to your LLC's records for safekeeping. Having an operating agreement can help prevent future disputes and ensure that the LLC runs smoothly.
Consider Expedited Processing
If you're looking to get your LLC up and running quickly, you may want to consider expedited processing. This means that we will make efforts to submit your LLC application to the state within 48 hours of receiving your order. Keep in mind that we don't have control over the state's processing times, and it's possible that they may take longer than usual due to various factors.
Conclusion
We know that starting a business can be scary, but don't worry, we've got your back! We're here to help you through the LLC formation process every step of the way. If you have any questions or concerns, just give us a shout. We have a friendly support team ready to help you out and answer any questions you may have.
So, what are you waiting for? Take the first step and start your LLC today! With our help, you'll be up and running in no time.
Getting in touch with us is easy, whether you prefer sending an email to contact@tailorbrands.com, giving us a call at +1-888-355-5955, or simply clicking the Help button located in the bottom right-hand corner of our website.
This portion of our website is for informational purposes only. Tailor Brands is not a law firm, and none of the information on this website constitutes or is intended to convey legal advice. All statements, opinions, recommendations, and conclusions are solely the expression of the author and provided on an as-is basis. Accordingly, Tailor Brands is not responsible for the information and/or its accuracy or completeness.