What is a Trademark? 
Trademarks protect symbols, phrases, designs (e.g. logo), or combinations that identify services or products belonging to a specific source. The purpose of a trademark is to enable consumers to identify your product or service and distinguish them from your competitors within the same marketplace.
When a trademark is registered, it gives the owner exclusive rights to use that trademark and prevents others from using it without permission. Trademarks are important for businesses because they help build a good reputation and make sure customers don't get confused by similar products or services.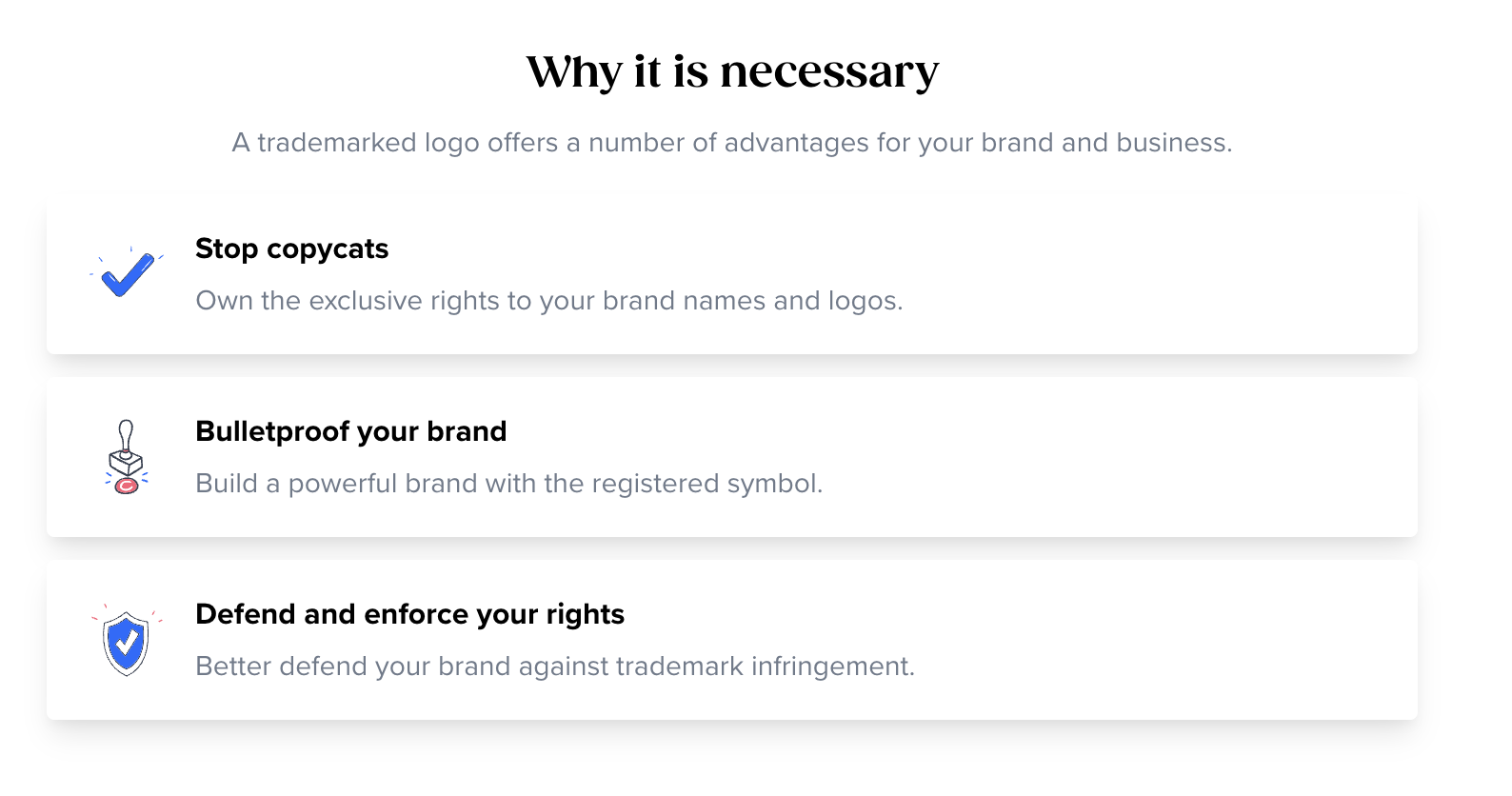 What is a U.S. Federal Trademark?
Registration of a trademark requires you to take several steps. While there are multiple levels for a trademark (local, state, and federal), the best protection you can get is at the federal level. To obtain a trademark that protects you in the U.S., you can apply for a trademark with USPTO or use services like Tailor Brands Trademark services (more info in the resource section below).
Does Tailor Brands offer Trademark Filing Application services?
Yes! Our service simplifies the USPTO (United States Patent and Trademark Office) trademark application filing process. Within our platform, simply answer a few easy-to-follow questions and we'll handle all the paperwork and e-file your application with the USPTO.
Once you submit your trademark application to the USPTO, Tailor Brands will not be able to provide further assistance with the application process. After you complete the e-filing, it will be solely your responsibility to handle any additional steps required by the USPTO to advance your application toward registration.
How Can I Apply for a Trademark?
To apply for your Trademark through Tailor Brands, you can follow these simple steps:
1. Log In to your Tailor Brands account
2. From the left-hand panel, select "Trademark"
3. Click on "Get Started" and use our online form to answer a few easy questions about your business.
Once you finish this process, we will submit your application to the USPTO and you will receive the documents via email when they're ready. 
Please note that legal laws and regulations are subject to frequent changes. While we aim to provide helpful information, it's important to understand that this page serves only for informational purposes and does not provide legal or tax advice.
More questions? Getting in touch with us is easy, whether you prefer sending an email to contact@tailorbrands.com, giving us a call at +1-888-355-5955, or simply clicking the Help button located in the bottom right-hand corner of our website.