Your Domain's Advanced Settings is where you control your domain.
If you need to do things with your Domain like:
Change your DNS records
Add TXT record
Add A record
Add CNAME record
Verify your Domain by adding a record
Edit your contact information for Domain
Create a Subdomain
Forward your Domain
Transfer your Domain
You will need to access Domain's Advanced Settings by following the instructions below: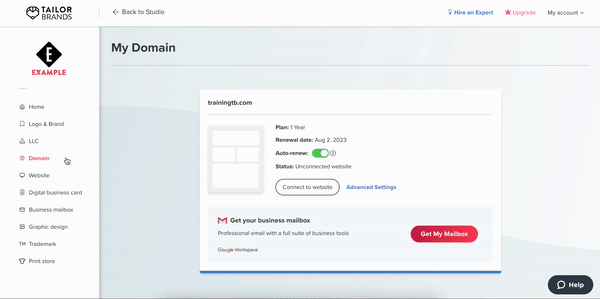 Login to your Tailor Brands account
Go to the Domain
Click on Advanced Settings
Login to the Domain Panel
Click on your domain name to access the Domain Settings page.
Once you are here, you can make changes to your Domain DNS and associated information.
If you are having trouble with your Domain Password, you can see how to reset it here.
For further information or to speak with one of our Support Agents, simply click on the link here and submit your message via the green Help button on the bottom right-hand corner.